GARDENING SERVICES
Based in Adelaide, South Australia since 2008, we have been providing high-quality gardening services to our local community servicing a large range of suburbs all over Adelaide.
We are a local family business and not a franchise therefore our prices are lower because we have no fees to cover.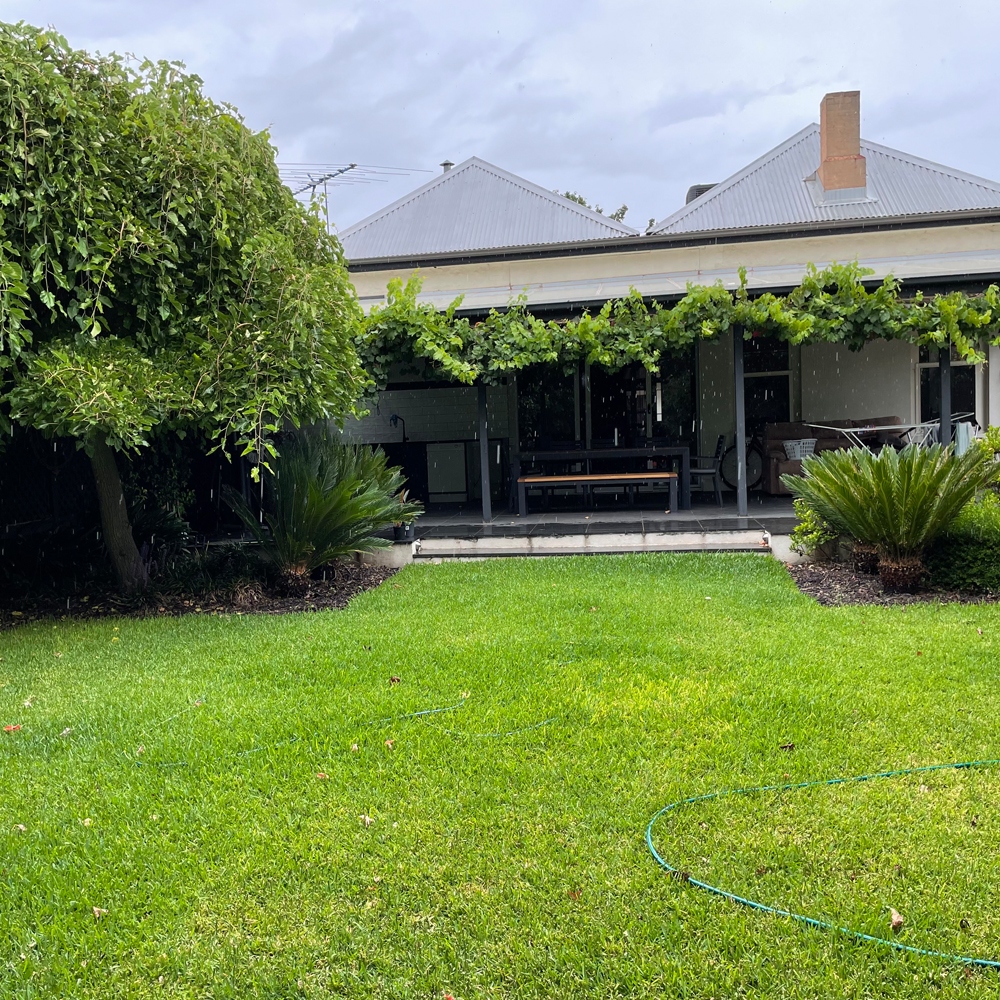 WE CAN HELP YOU WITH GARDENING SERVICES RIGHT NOW
Your Trusted Gardening Services Provider in Adelaide
Do you not have time to do any gardening anymore?
Is your garden getting out of control?
Finding the right gardening services professional is important.
Gardening Services Adelaide provides professional edging, mowing, clipping removal, tree pruning, rose dead heading, hand weeding, gutter cleaning, weed spraying, pot plant restoration and much more if needed.
Getting your garden cleaned up around your home by one of our experts can make your home look neat and tidy, it is one of the most time consuming and dirty jobs but if you want them done properly give Troy a call.
Gardening Services Adelaide will get the job done quickly, effectively and affordably.
Highly-experienced Lawn Experts
We have a friendly team of insured & experienced lawn mowing specialists.
Customer Support Unmatched
What makes us different from the rest?
We are here for you, It is all about you and what you want.
Satisfaction Guaranteed
Our job isn't done until you are completely satisfied.
We are a family owned business and our time is your time.
Gardening Services Adelaide
Isn't it tiring when you spend countless hours tending to your garden but end up with almost no difference from when you started? And that's if you know what you're doing. People who don't know how to tend to their gardens sometimes end up even more tired. No matter how skilled you are, gardening can be a time-consuming task that leaves you feeling overwhelmed.
It's frustrating to dedicate so much of your day to gardening only to end up with lack lustre results. But here's the good news: it doesn't have to be.
At Gardening Services Adelaide, we provide more than just neatly trimmed bushes and pristine lawns. We offer something truly invaluable.
Time.
So imagine this: You own a beautiful home with a beautiful garden. But as pretty as your garden may be, maintaining it has become an endless chore that dominates your schedule. You put in so much effort. You pull out the weeds, you trim your plant hedges and mow the lawn every weekend. But even after all that, the results never quite meet your expectations. It always ends up as a cycle of disappointment and wasted energy.
But there is a game changer.
At Gardening Services Adelaide, we understand the challenges faced by homeowners like you. We know your garden can quickly become a source of frustration, consuming your valuable time.
But not with us. If time is taken from you then time is given to you back. We'll give you your time back.
We have a wide range of comprehensive services that are designed to lessen your burden. Our team of skilled professionals is well-equipped to handle a variety of tasks, ensuring that every corner of your garden receives the attention it deserves.
Here are just some of the services we offer below:
Professional Edging and Mowing
We keep your lawn looking pristine with our expert edging and lawn mowing services. Say goodbye to uneven edges and overgrown grass, and say hello to a neat and well-manicured lawn. We also can help you with lawn weed control to make sure no unwanted weeds are growing in your lawn.
Tree pruning
Proper tree pruning is crucial for the health and aesthetics of your garden. Our professionals skillfully prune your trees, promoting healthy growth and enhancing the overall beauty of your landscape.
Along with pruning, trimming and shaping plants is essential for a polished garden appearance. Our team takes care of removing any clippings or debris, as well as rubbish removal, leaving your garden looking clean and tidy.
Rose Pruning and Deadheading
To ensure vibrant and abundant blooms, roses require regular deadheading.
We remove spent blossoms, encouraging new growth and prolonging the flowering season of your roses.
Done with finesse and expertise.
Roses should also be cut back hard and pruned correctly in June/July.
This is neccessary to promote growth for the following season.
Hand Weeding
We understand that pesky weeds can quickly take over your garden and hinder its beauty. Our meticulous hand-weeding techniques as a form of weed control eradicate unwanted plants, pest weeds and grass growth allowing your garden to thrive the way it should.
Weeds rob your soil of nutirents and moisture that your garden needs to survive and flourish.
Roof Gutter Cleaning
Why limit what you can clean with what's on the ground? Clogged gutters can cause water damage and affect the overall structure of your home. Our gutter cleaning service team removes debris and ensures that your gutters are clean and functioning properly.
Weed Spraying
If hand weeding isn't enough or your garden has become overgrown, spraying finishes the job or can control any issues you have. Controlling weeds is essential for maintaining a healthy and visually appealing garden. Our weed control service utilizes effective and eco-friendly weed spraying techniques to keep unwanted plants at bay.
Pot Plant Restoration
If your potted plants are looking a little sick or to big for the pot, we can help bring new life into your plants by helping repot them with new soil and transplanting them into a larger pot. Our experts can rejuvenate your pots by providing proper care, pruning, and repotting when necessary.
If a large plant looks a little sad it could something simple like it is root bound and has no more room for its roots, it needs to breath and spread its wings.
Brush Cutting
Taming overgrown vegetation can be very challenging, but not with our gardening maintenance services. Our team utilizes specialized equipment to clear away thick brush and undergrowth to allow your garden to thrive even more.
If your garden has become unmanagable we can help you with that.
Garden Dripper Systems
As we get old the garden becomes hard to manage and water.
Gone are the days standing in your garden with a hose watering on hot nights.
If you want to make your life in the garden a bit simpler then we can help setup an automatic watering system for your plants or fix and old one.
Your garden needs to be watered to survive.
CALL TROY FOR A FREE QUOTE TODAY
These are just a few examples of the comprehensive services we offer. Each service gives you back the time that's otherwise taken from you. With efficient gardening services, you can enjoy a shining garden, bustling with life. Keep doing what matters to you and we'll take care of the rest.
What Sets Us Apart From The Rest
At Gardening Services Adelaide, our commitment to customer satisfaction is unwavering. We firmly believe that you should always have the final say in everything related to your garden. It's YOUR garden, YOU are the boss.
Unlike other gardening and lawn mowing services, we offer unparalleled support and a personalised approach tailored to your unique lawn and garden requirements. We understand that there's no one-size-fits-all solution when it comes to gardening. Every garden is as unique as its owner, and it deserves a customised solution—Every. Single. Time.
We take pride in our team of gardening wizards. They're the best in the business and we don't say that as a promise but as a fact. They have encountered and triumphed over countless garden challenges, making them well-equipped to handle anything your garden throws their way. Your satisfaction is our bare minimum, not our goal. We won't consider a job finished until you're thrilled with the results.
As a local gardening service and family-owned business since 2008, we truly understand the significance of a well-maintained garden or lawn to your family. Unlike corporate-owned gardening services, we genuinely care about your needs and strive to deliver an exceptional experience.
Ready For A Garden Transformation?

When you choose Gardening Services Adelaide, you're choosing professionalism, reliability, and an unwavering commitment to excellence. We take immense pride in creating beautifully curated and maintained gardens that leave you speechless.
Your satisfaction is our driving force, and we go above and beyond to ensure that you receive the highest quality of service.
It's time to reclaim your leisure time and let us handle the hard work. Contact us today for a free consultation or find out about our gardening services price list. Our gardening specialists are eager to show you how we can turn your garden into a stunning oasis that you'll love coming home to.
Top-Quality & Friendly Gardening Services In Adelaide
We believe that well-maintained gardens are the pride of every home. That mission extends beyond one home—we aim to bring that sense of pride to entire neighbourhoods. If we can provide the best gardening and general maintenance services in Adelaide, why stop there? We're determined to extend our expertise to every surrounding suburb including:
North Adelaide ,Auldana ,Beaumont ,Beulah Park ,Burnside ,Dulwich ,Frewville ,Glen Osmond ,Glenunga ,Leabrook ,Leawood Gardens ,Linden Park ,Magill ,Mount Osmond ,Skye ,St Georges ,Stonyfell ,Waterfall Gully ,Wattle Park ,Hectorville ,Newton ,Paradise ,Tranmere ,Allenby Gardens ,Beverley ,Bowden ,Brompton ,Cheltenham ,Croydon ,Findon ,Flinders Park ,Fulham Gardens ,Grange ,Hendon ,Hindmarsh ,Kidman Park ,Ovingham ,Pennington ,Rosewater ,Royal Park ,Seaton ,Semaphore Park ,St Clair ,Welland ,West Beach ,West Croydon ,West Lakes ,West Lakes Shore ,Woodville ,Woodville South ,Woodville West ,Brighton ,Hove ,Kingston Park ,Somerton Park ,South Brighton ,Ascot Park ,Darlington ,Dover Gardens ,Glandore ,Glengowrie ,Hallett Cove ,Marino ,Morphettville ,Park Holme ,Seacliff Park ,Seacombe Gardens ,Seacombe Heights ,Ferryden Park ,Largs Bay ,Outer Harbor ,Port Adelaide ,Sefton Park ,Semaphore ,Wingfield ,Collinswood ,Fitzroy ,Nailsworth ,Clarence Park ,Everard Park ,Highgate ,Hyde Park ,Kings Park ,Malvern ,Millswood ,Parkside ,Unley ,Unley Park ,Brooklyn Park ,Hilton ,Keswick Terminal ,Mile End ,Plympton ,Richmond ,Thebarton ,Underdale
If you have any question regarding our gardening services, we encourage you to schedule an appointment or phone consultation with one of our gardening experts. We are pleased to offer all types of gardening services for the needs of your family or business.
POSTAL ADDRESS
PO BOX 14, BROOKLYN PARK, SA, 5032
Fill out this quick form to schedule an appointment with us. We will get back with you by phone as soon as possible!

Our gardening services is based in Adelaide since 2008. With a team of licensed and experienced contractors, we have been providing high-quality, fast and affordable gardening services for over 15 years.
PO BOX 14
BROOKLYN PARK, SA 5032
Monday-Friday: 7:00 – 17:00